Information Processing Systems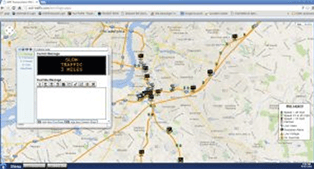 Computerized Highway Information Processing System "CHIPS" is a patented software/web-based system that is the core of an ITS solution. The web-based system provides a central location to monitor, track and control all ITS field devices in a secure and easy-to-use application.
By providing secure log-in access, the web-based system allows all approved users to have administration rights to not only view all real time traffic conditions, but also respond to incidents as quickly as they occur. This can include monitoring of all lanes to capture speed, volume, density and vehicle classification.
That data capture can then be disseminated via the website as well as a direct XML feed to stakeholders. The data can then provide historical scenarios, trends and forecasting for future project design. The real time data collection is then utilized to provide an automated message to the message board fleet that will then empower the traveling public to make informed decisions.
This can include alternate routing, trip planning or simply providing a safer experience when entering a live work zone. Some of the examples of these systems include, but are not limited to:
Features:
Real Time Traffic Management
Smart Work Zone Systems
Automated Work Zone ITS
Dynamic Merge Solutions
Travel Time Systems

One of the key components of a portable ITS System is to provide real time messages to the traveling public. The results of having real time traffic conditions posted to a message board fleet are:
Features
Alternate Routing and Trip Planning
Reduction in Collisions and Accidents
Decreased Volume through Work Zone
Safer Work Zone for Workers
Safer Experience for Motorists
Convenient Travel Time Messaging All SMC Message Board Trailers can be integrated into a portable solution providing the flexibility needed for all roadway conditions.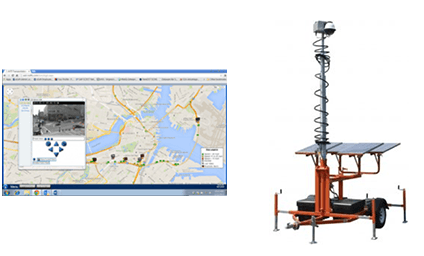 The MVT provides a portable, self-contained all-weather, trailer-mounted equipment platform. Through the use of wireless communication, the MVT provides the end user a rapidly deployable real-time video system viewable from a remote location. The MVT can be used as a stand-alone camera system or tied into a larger existing CCTV system.
Features
Can use virtually any camera
Additional mast heights available
Day/Night, Adjustable
Pan/Tilt/Zoom IP addressable cameras
32-ft. extendable mast with 360-degree lockable rotation
Capable of providing streaming or snapshot video
Optional electric hoist available for rapid deployment
Battery bank sized for 30-day autonomy
Industrial-grade trailerto give years of dependable service
Microwave and digital cellular communications available
360-degree adjustable solar array for maximum L exposure to sun
Custom options are available and can include a Wavetronix sensor for traffic detection
Trailer-Mounted Queue Detection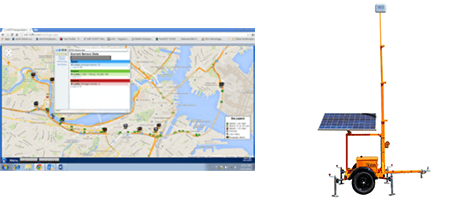 The Queue Trailer is a portable trailer that provides a versatile and lightweight platform with a small footprint to mount a microwave radar unit to detect speed, volume and occupancy for up to 22 lanes of traffic. The Queue Trailer can provide data remotely to a variety of information-gathering components.
Features:
Industrial-grade trailer to give years of dependable service
Reports the speed, length and classification of individual vehicles
Adjustable solar array for maximum exposure to sun
Optional digital cellular communications
Detects up to 22 lanes of traffic
Accurately detects lane changing vehicles
Available as a portable unit or permanent mount
Removable tongue
Battery bank sized for 30-day autonomy
Variable Speed Limit Trailer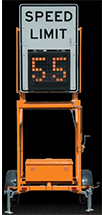 The Variable Speed Limit Trailer can be utilized in both a fixed mounted application or portable application providing the best solution for your highway safety needs. An L.E.D. display allows optimum viewing for varying highway speeds. Through the use of wireless communication, the speed limit sign can be controlled from a remote location allowing rapid changing of the roadway speeds in the event of a road repair or inclement weather conditions.
Features:
Provides remote programming of posted speeds
Allows speed adjustment based on conditions, traffic and weather
Available in amber or white LED.
Available as portable unit or permanent mount
Removable tongue
Industrial-grade trailer to give years of dependable service
L.E.D. display for maximum viewing for varying speeds
Top solar panel mounting for maximum exposure to sun
Battery bank sized for 30-day autonomy